Woodward High School - Cincinnati, OH
Class Of 1965
In Memory
Ronald Koolman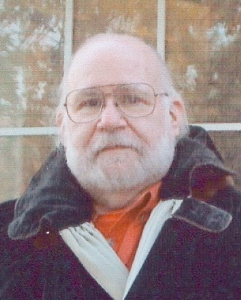 Click HERE to link to Ron's Enquirer obituary
Published in The Cincinnati Enquirer on Jan. 8, 2014 -
Ronald G. age 66, of Golf Manor, OH passed away on Friday, January 3, 2014. Preceded in death by his parents, Florence and Jacob Koolman. Survived by grandchildren, Regina and Karina Sisk, and their parents, Michelle and Paul Sisk; grandchildren, Rowan and Victor Linch, and their parents Jesse and Karin Linch; faithful companions, Sutekh and Apollo. Friends will gather at 10:30 am with the services at 11:00 am on Thursday, January 9, 2014 at Newcomer Funeral Home, 7830 Hamilton Ave, Cincinnati, OH 45231. To leave a special message of condolence for the family, please visit www.NewcomerCincinnati.com - See more at: http://www.legacy.com/obituaries/cincinnati/obituary.aspx?n=ronald-koolman&pid=168939177&fhid=29161#sthash.qnlU8SHA.dpuf
Click HERE to link to Ron's obituary at Newcomer Funeral Home
Ron, also known by some of us as "Santa Claus", was born on December 25, 1947 and left us all too soon. He was preceded in death by his mother and father, Florence and Jacob Koolman, and by many four legged friends over the years, including his cat Loki.

Ron leaves behind to remember him his grandchildren, Karina and Regina Sisk, and their parents Michelle and Paul Sisk; and his grandchildren, Rowan and Victor Linch, and their parents, Jesse and Karin Linch; as well as his cats Apollo and Sutekh, and a host of friends and neighbors.

Ron received his Bachelor of Science from Illinois Institute of Technology in Chicago, Illinois and his Master of Education from Xavier University in Cincinnati, Ohio. Ron was a life-long learner. He took various computer classes at New Horizons in Cincinnati, Ohio. He received many certifications from Fidelity Investments where he worked as a 401 (K) and pension specialist. Over the years he was Assistant to the City Manager for the City of Wyoming, Ohio, and intake/orientation counselor for Covington Goodwill Industries and Cincinnati Opportunities Industrialization Center, and worked as a substitute teacher and tutor in math and science. He worked for Data Recognition Corporation in Cincinnati and for Fidelity Investments where as a 401(k) specialist he assisted customers solve problems with their pensions. Ron was that competent voice of the phone when somebody had died and help was needed by family to settle their accounts.

While Ron had a gruff exterior, he had a heart of gold. In earlier years he spent time as a troop leader for the Boy Scouts and earned the rank of Eagle Scout in his youth. Ron adopted various hobbies and interests throughout his too short life. He had a passion for photography. In his 44 years of work behind a camera he photographed groups and charity events, most recently photographing the MS bicycle ride in Cincinnati in September, as well as people and furry friends who were important in his life. Ron was a talented tailor who created many historically accurate and intricate costumes. He had a long history of designing costumes for renaissance weddings. The outfits he created for the Adler-Phelps Wedding ensemble made the Indianapolis Star Newspaper. Ron also designed costumes for Ensemble Theatre of Cincinnati for Gifts of the Magi and belonged to and did costuming for Society for Creative Acronyms (SCA) events. He even is known to have made the wedding dress of a very special friend. On the commercial side he created the costume for "Bagelman" for Marx's Hot Bagels, the "Glory Bee" and "Cheese It". Ron was one of the original members of the Flying Cloud Academy of Vintage Dance located in Cincinnati as well as the Cincinnati Court Dancers. In addition to performing historical dances in both troupes, he was also a costume advisor. He also served on the advisory board of the Forget-Me-Not Historical Dance Company.

Ron was an accomplished songsmith and musician. He enjoyed playing guitar and singing. He was also a science fiction geek and combined his musical talents and his strong interest in science fiction in "filk." He wrote numerous original songs, including what some of us believe could have been a smash hit , "My Cat is Taking Prozac."

Those of us who knew Ron will miss him. Those who had not gotten to meet him yet missed out on a very special person. In lieu of flowers donations may be made to the non-profit no-kill cat shelter The Tenth Life, PO Box 178, Alpha, Ohio 45301.