Woodward High School - Cincinnati, OH
Class Of 1965
In Memory
Mickey Braverman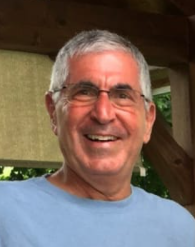 Michael "Mickey" D. Braverman, 74, died peacefully with his wife and 3 children by his side, at the Transitions LifeCare hospice care facility in Raleigh, NC, on Friday, April 2, 2021. Mickey succumbed to duodenum cancer after wrestling with it for a year and a half. After starting Hospice in January, Mickey got a renewed ability to eat, and while being mostly pain free, he enjoyed his last few months doing what he liked most, eating all his favorite foods from all his favorite restaurants.
Mickey was born in Cincinnati, February 13, 1947, the son of Sidney and Anne Braverman, graduated from Woodward High School (Cincinnati) and went to The Ohio State University before joining the Navy and serving on the Intrepid in the Vietnam war.
Mickey stayed in touch with his friends from Woodward High School and always looked forward to their reunions. He moved to Cleveland and married his first wife, Wendy (Maxson), had two wonderful children, Kevin and Lisa, and was in the printing sales business. In 1991, Mickey married Gwen (Bullock), had their daughter Sydney while living in University Heights, later then moving to Chagrin Falls, OH before relocating to Raleigh, NC in 2015 for Gwen's work. Mickey was so proud of Sydney and her pursuit of becoming a lawyer and wanted more than anything to see her graduate in 2022.
Mickey and Gwen were looking forward to travelling after Gwen's retirement this year and to their 30th wedding anniversary celebration later this year. He loved the ocean, cruises, travelling, cooking and was a grill-master! He loved spending time with his family, friends, and trying out new beers and bourbons, as well as finding the best eateries around. He made wonderful friends at the Raleigh Soup Kitchen and enjoyed spending time with his neighbors and friends. Anyone that knew Mickey, knows that he was forever grateful to his surgeon, Dr. Garth Herbert, at Duke Raleigh, and to their subsequent developing friendship.
Mickey is survived by his wife, Gwen Braverman (Raleigh, NC); Children Kevin (Angie) Braverman (Chicago, IL), Lisa (Nick) Berardinelli (Chesterland, OH) and Sydney Braverman (Columbus, OH); Grandchildren Leah and Nicolas Berardinelli (Chesterland, OH) and Taegan and Camryn Braverman (Chicago, IL); Mother-in-Law Ruth Bullock (Aurora, OH); Siblings Julius (Cathy) Braverman (Milford, OH) and Barbara (Edward) Spievack (Stuart, FL); Siblings-in-law Bill (Lyn) Bullock (Chagrin Falls OH), Leslie (Dennis) Honberger (Southington OH), and Wes (Paige) Bullock (Uniontown OH); Nieces and nephews on both sides of the family. And finally, his best dog "Bella", the long-haired mini-dachshund.
A virtual visitation time is set for Wednesday, April 7, from 6-9pm via Zoom for anyone wishing to visit online. Click here to join the Zoom on April 7th.
Due to COVID sensitivities, a small Memorial Service will be held on Thursday, April 8, at the Renaissance Funeral Home, 7615 Six Forks Road in Raleigh, NC, at 10:30am, with guests starting to arrive at 10. A live streaming of the service will begin at 10:30 and will be recorded and available afterwards. For the YouTube live stream, please go to Renaissance Funeral Home YouTube Page
Friends and family who want to continue the celebration of Mickey's life may stop by the Braverman's home at 3820 Evander Way, Raleigh, following the service, starting around noon through 6pm.
In lieu of flowers, Mickey asked that donations be made to either Duke Raleigh Cancer Center or the Transitions LifeCare Hospice center in Raleigh.