Woodward High School - Cincinnati, OH
Class Of 1965
In Memory
David Mitchell
David Alan Mitchell

Age: 73 Born: March 18, 1947 Died: March 31, 2020

David Alan Mitchell, 73, of Cincinnati, OH, passed away peacefully on March 31, after a short battle with Creutzfeldt-Jakob Disease (CJD). He was a lifelong Cincinnatian, born on March 18, 1947, and raised in Pleasant Ridge. David attended Woodward High School, class of 1965, and went on to graduate from the University of Cincinnati College of Pharmacy. Pharmacy ran in his family - as a child he spent many hours in the pharmacy his father owned. Pharmacy became his passion, and following in his father's footsteps, he joined and expanded Mitchell Pharmacy, with the last location being in Montgomery. It was in the Montgomery pharmacy that he met the love of his life, Pam, who he married in 1987.

After selling Mitchell Pharmacy, David worked with his nephews at Axcess Financial from which he recently retired. Although Pharmacy was his calling, he was a very smart and personable man, so he was successful in just about anything he did. David was an avid reader and a true intellect. He loved all sports with football and golf at the top of the list. He regularly played golf with his high school and college buddies. David was fortunate to attend the Masters golf tournament in Augusta, GA every year for the many decades, continuing a tradition his parents started more than 50 years ago. He was excited to have already received his tickets in the mail for this year.

When Pam passed suddenly last year, David was devastated. He worked very hard to rebuild a daily routine, and by the new year in 2020, he had taken on some new projects with some real forward-looking optimism. He had just started to make plans for the next chapter in his life when this disease took hold. David's friends and family rushed to do whatever they could for him. After all, he was someone whom everyone looked to for advice, humor, or just a good hug. Usually all three of those things came at the same time. His sense of humor, laugh, and genuine nature were incredible Some lifelong friends were able to visit his home and sing happy birthday with him for his 73rd just weeks ago. He has friends for miles around that would do anything for him, and that continues to be a comforting thing for his family during a particularly difficult time. David was known affectionately by many of his close friends and family as "Mitch". However, there are four people in the world who know him only as "Papa". Those children have adored their fun, silly, and lovable Papa, and he so adored all of them.

David was preceded in death by his wife Pamela Mitchell, son Clinton Talmadge (C.T.) Mitchell, and parents George and Alice Mitchell. He is survived by daughter Allison (Michael) Bolger of Chicago, grandchildren Aidan Mitchell, Madeline and Eleanor Bolger, and Stella Stewart, and sister Judy Davis of Cincinnati. He is also survived by Aidan's mother, Katie Stewart, nephews David (Tracy) Davis and Jared Davis, niece Laura (Peter) Klekamp, and many beloved grand nieces and nephews. David and Pam were longtime members of Indian Hill Church, where a service celebrating David's life will be held at a later date.

Spring Grove Elden Good is in charge of arrangements.

In lieu of flowers or gifts, please consider a donation to CJD through The National Prion Disease Pathology Surveillance Center

http://www.cjdsurveillance.com/

at Case Western Reserve University or the CJD Foundation at

https://cjdfoundation.org

or 3634 W. Market Street, Suite 110, Akron, OH 44333.

Also, or if you haven't already, pour some Jack Daniels, take the glass, and lift it up to a man who gave us more love, laughs and late night conversations that have made us all better people for having been with him.

http://www.springgrove.org/obituary.aspx?id=5065
---
---
March 31, 2020

Journal entry by Allison Bolger
This morning we received the sad news that David lost his struggle with this awful disease. We are completely heartbroken. He went peacefully and quickly before we could be with him. Covid-19 robbed us from being able to be with him and with family. Not being able to have been with him during this past week was devastating, but we are trying to take comfort in so many other moments we were able to share with him, moments that always included laughter, joy and hugs. He is now at peace with my mom and C.T. in heaven.
With the current situation related to Covid-19 in Ohio and elsewhere, we will be determining plans for a memorial at a future time. Thank you everyone for your love and support. It has meant the world to our family, and it is a true testament that David was such a wonderful, caring person who will always be remembered for his love, humor, genuine friendship, and great kindness.
Please stay safe and stay home to keep your loved ones safe and healthy.
So much love and gratitude from all of us -
Allison and Michael Bolger
Judy Davis
Katie Stewart
Papa's greatest loves - Madeline, Eleanor, Aidan & Stella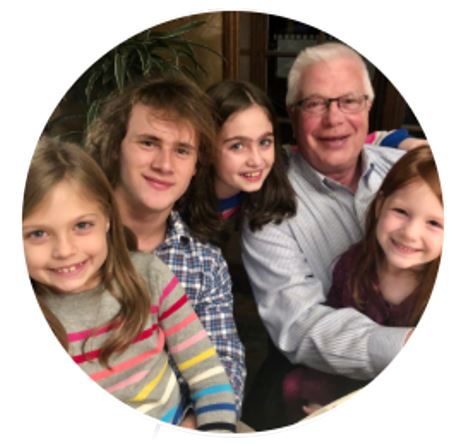 Read more entries on David's CaringBridge journal here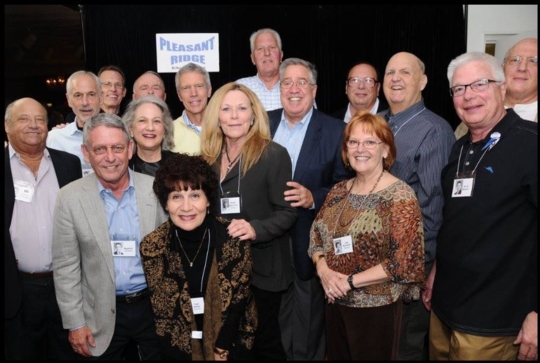 At the 50th reunion.