Woodward High School - Cincinnati, OH
Class Of 1965
In Memory
Charlotte Patton VIEW PROFILE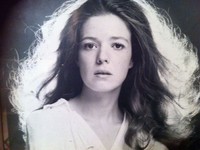 by Stephen Hanks Jan. 26, 2018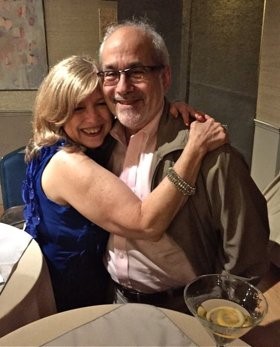 Charlotte Patton with her Friend and Musical Director
Barry Levitt at the 2015 Provincetown Cabaret Festival.
They are now both with the Angels.
Another glorious flame of the New York Cabaret scene has been extinguished.
Just four months after acclaimed Musical Director Barry Levitt tragically died of a heart attack hours before a performance at the Laurie Beechman Theatre, Charlotte Patton--a beloved performer for whom Levitt frequently played and was one of his closest friends in Cabaret--died early Thursday morning at Mt. Sinai Hospital after an almost two-year battle with cancer. Both passed away at the age of 70.
Charlotte Patton was born on June 12, 1947 in Cincinnati, Ohio. After graduating Woodward High School in 1965, she studied Theater at the University of Cincinnati, where she graduated in 1969. In 1971, she moved to New York City to pursue an acting career and over the decades she performed on a theater stage in various comedies and dramas, as well as getting small roles on television. Over the past few years, Patton also dabbled in stand-up comedy.
Charlotte gained her best critical notices playing, as she would say, "a surprising number of alcoholics," including "Evie," the recovering alcoholic who falls off the wagon in The Gingerbread Lady; the vicious pill-popping, alcoholic mom in Sympathetic Division; a rich drunk doyenne in The Theory of Color; a horny drunk in Isaac Brody's film The Raffle; and the tipsy mom in Averie Storck's award-winning independent film Showers of Happiness. According to Charlotte, one of her favorite (non-alcoholic) roles was in the two-character Marriage Play by Edward Albee.
At the time of her passing, Patton had been a Legal Secretary for the Global Law Firm, Linklaters for almost 13 years. In a message to the firm's employees, Michael Brock, the US COO of Linklaters, wrote that Charlotte " . . . Courageously battled cancer sharing stories over the past year which gave hope to the many cancer survivors going through similar challenges. We can all learn so much from her, not the least from her strength of character, generosity, fortitude, fantastic humor, and phenomenal grace." Patton also served as a Senior Beauty Consultant for Mary Kay Cosmetics and was an active and proud member of the United Methodist Church of St. Paul and St. Andrew on New York's Upper West Side.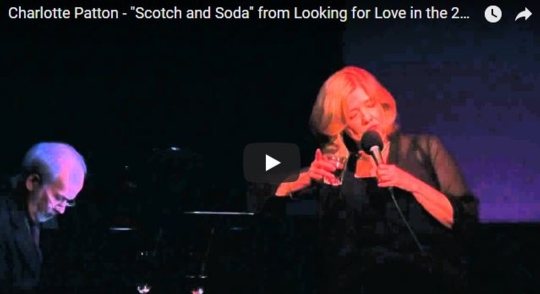 Click pix to see video
But performing on a Cabaret stage eventually became Charlotte Patton's first love. Although she began her Cabaret "career" more than two decades ago at the popular New York club Eighty-Eights (after attending the Cabaret Symposium at the Eugene O'Neill Theatre Center), she achieved her greatest success over the past five years performing two highly-praised solo shows. Her 2012-2013 effort Looking For Love in the 21st Century (click here to see video above), performed at The Duplex (with Barry Levitt as Musical Director and Karen Oberlin as Director), earned her a 2013 BroadwayWorld.com New York Cabaret Award nomination for "Best Female Vocalist." The entertainment website wrote that Patton's show was " . . . a warm, humorous, self-revealing, and relatable show from an experienced actor and comedienne with a sweet alto . . . Patton is a mature, attractive and youthful woman who is always picking herself up and who isn't ready to stop facing the music, the dancing, or the romancing."
Two years later, Patton staged what almost seemed like a sequel. Her sensual, provocative, and playful show . . . Celebrating Men (Bless Their Hearts) at the Metropolitan Room (again with Levitt and Oberlin at the creative helm) earned her a 2015 BroadwayWorld.com New York Cabaret Award nomination for "Best Show, Female," and a 2016 MAC Award Nomination for "Best Musical Comedy Show." (See video below.)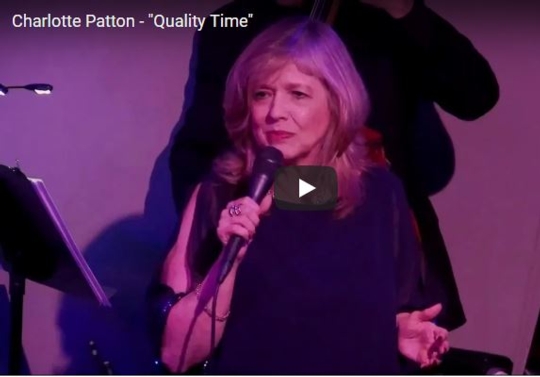 Click pix to view video
Among the raves from the Cabaret press was this notice from BistroAwards.com:
"Patton's stage persona is that of a good-time gal--a woman who's always game for a fling. Good naughty fun is on her agenda . . . Her singing voice is a perfectly fine instrument for the mildly jokey, occasionally racy repertoire. She can--and more than once does--turn a note into a throaty growl, suggesting the love call of a pussycat on the prowl . . . On Sondheim's torchy "Losing My Mind" from Follies, Patton provides some welcome emotional complexity, and her understated, engaged performance seems to show the darker aspects of her party-girl character's psyche."
A few months after her February 2016 performance of Celebrating Men, Patton entered Roosevelt Hospital in Manhattan after experiencing pain in her ribs and chest. Doctors found some small tumors and immediately started her on treatments to combat a cancer that turned out to be very aggressive. Through all her intense discomfort and doctor visits, Charlotte's cheerfulness and optimism was as relentless as her cancer. In addition to often traveling to Ohio to visit her 93-year-old mother, Bonnie, Charlotte continued performing, appearing in various Cabaret Variety shows and staging--in spite of intense pain--Celebrating Men at the June 2016 Provincetown Cabaret Festival.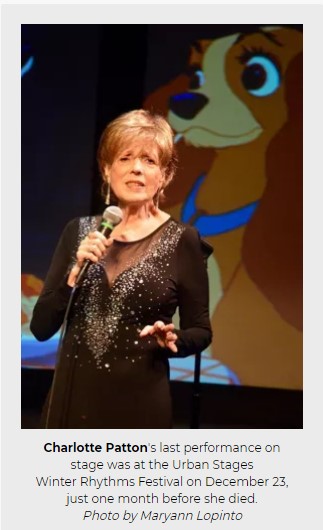 Click pix to view video
Patton was not only an entertaining and engaging performer, she was a beloved character in the New York Cabaret community; a ubiquitous and cheerful presence at various cabaret rooms and a fervent supporter of her fellow performers. When news of her passing hit social media yesterday, on Facebook there was an outpouring of grief as well as love.
"Charlotte and I connected instantly, as I think she did with so many people," said her good friend and Cabaret Director Karen Oberlin. "Charlotte was pure love and her laugh was infectious, I can hear it now. She was a bright light, illuminating wherever she was with her joyful, kind, playful, and thoughtful nature. She was also a beautiful performer who poured all she had into her work. She offered so much to the universe, it will be hard to be here without her."
"We were only friends for the last five years of her life, but it felt like we had been buddies forever," said Stephen Hanks, her great friend and publicist for her Celebrating Men show. "I will always remember her beauty, her warmth, her grace, her style, her humor, and her incredible talent. And I'll never forget the unbelievable bravery she exhibited over the last two years while battling the cancer that was ravaging her body. But it never diminished her optimistic soul. The way Charlotte handled her illness was truly inspiring. Four days before she died, she was telling me about her ideas for her next cabaret show. I really wanted to promote that one."
Charlotte Patton's life was one that was definitely well-lived. And a celebration of that life is being planned and will be announced at a later date.
---
My Charlotte Patton Obituary is Live on BroadwayWorld.com. This was one of the toughest things I've ever had to write. I did the best I could. If anyone who knew Charlotte finds any factual inaccuracies, please let me know. Charlotte and I were not fans of "Fake News" and "Alternative Facts."
;)
Beloved BWW and MAC Award-Nominated Cabaret Performer and Actor CHARLOTTE PATTON Dies at 70
---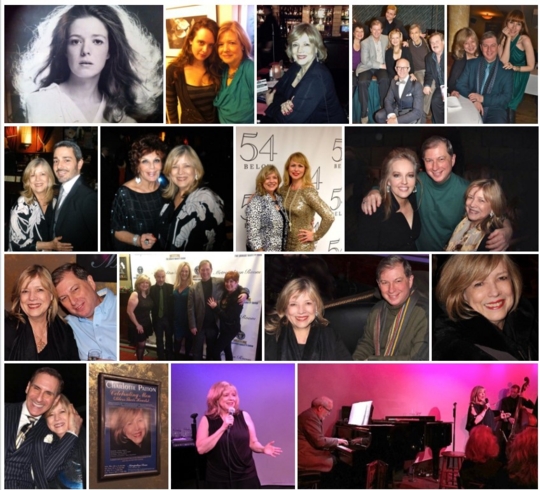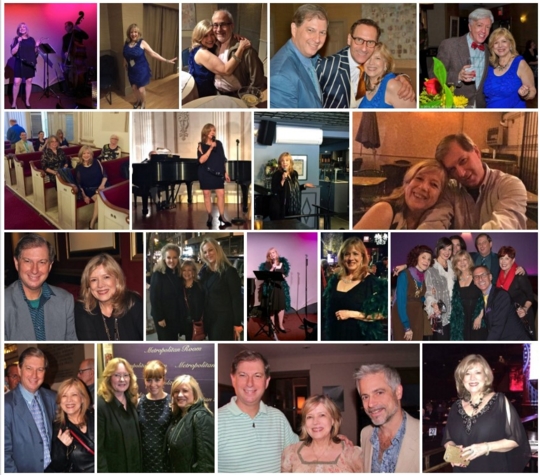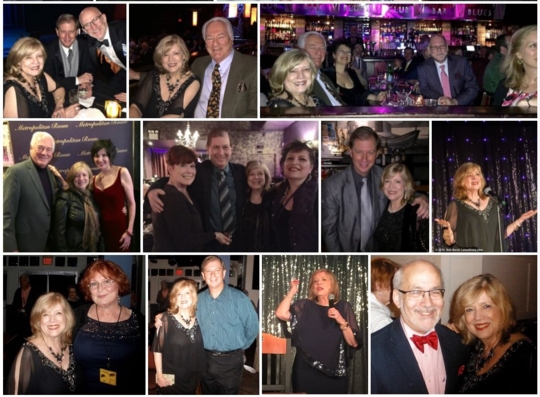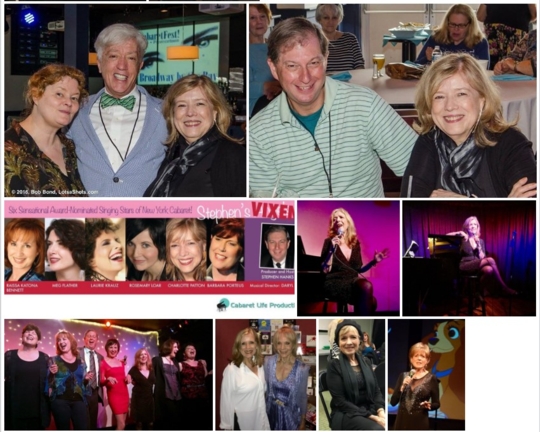 Click here to see Charlotte's last Profile entry.